Lighting the whole school creativity fuse
Phillippa O'Shea, Director of Teaching and Learning for Creative Arts at Marple Hall School in Stockport, looks back on the school's Artsmark journey.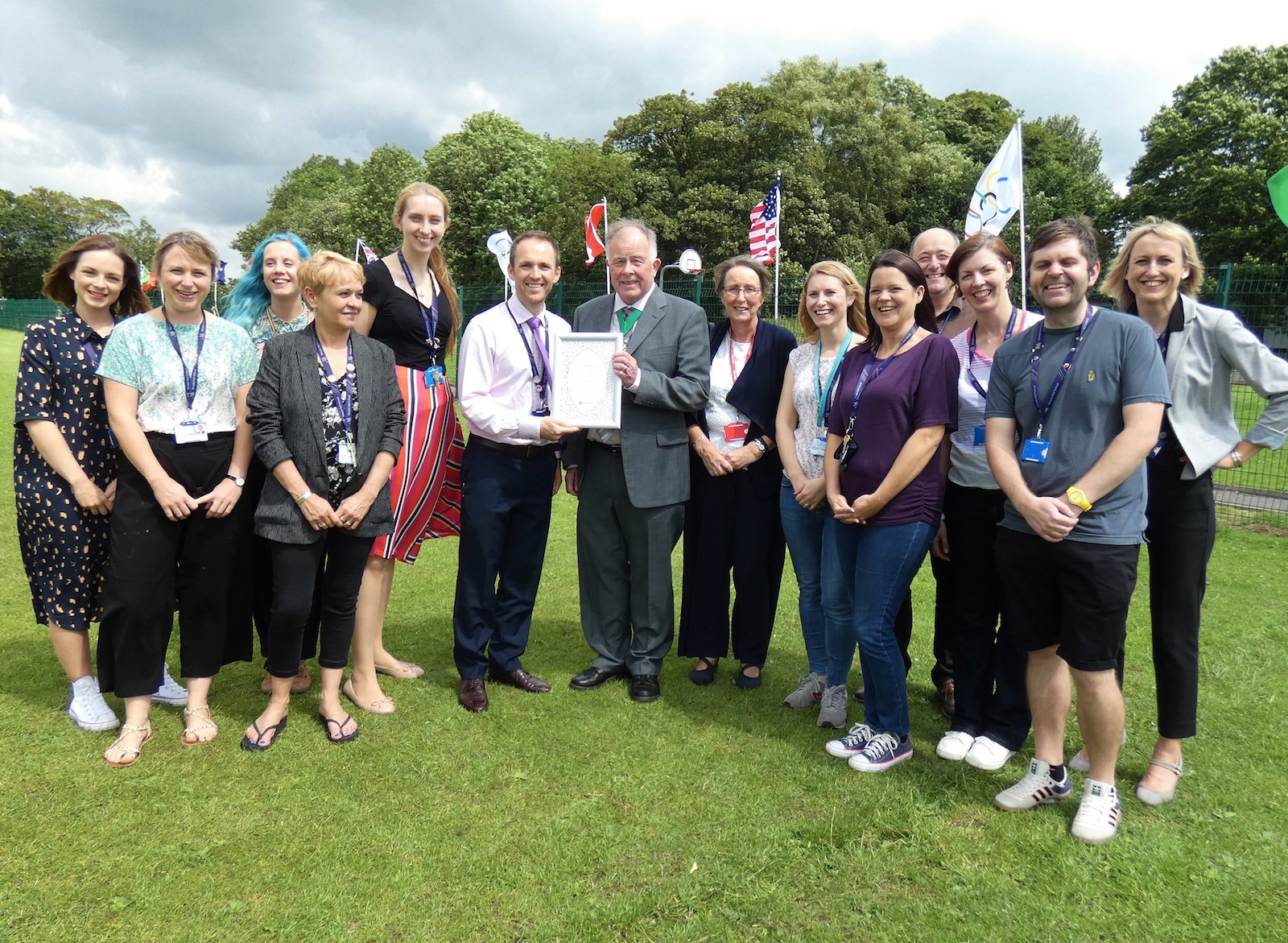 Back in 2017, in my 3rd year as Director of the Creative Arts Faculty, my team were achieving one of the highest GCSE progress scores in the school. The 3 subjects I line managed were being delivered successfully by their respective curriculum leads and the wealth of extra-curricular opportunities on offer was exciting.

Naturally, I wanted the team to feel appreciated for their efforts and national-level recognition seemed like a good idea. In an uncertain political climate for the arts, I wanted to make my Faculty essential to the success of the wider school; to protect our existence for the future.

I had investigated Artsmark 4 years before, but the criteria at the time was different and our lack of Dance lessons in every year group was prohibitive. The new Artsmark framework is less prescriptive and more flexible, acknowledging all educational settings are different. I also had a new line manager, who appreciated the arts. Having this partnership with a member of the Senior Leadership Team made the journey seem possible.
ARTiculating our ambitions
Primarily, our motivation for engaging with Artsmark was to achieve recognition for the wide range and quality of creative work that exists within a school year at Marple Hall School - and to protect it. 2016 was the year of the EBacc, and we were worried that our numbers would fall as a result of reduced option blocks at GCSE. I wanted to raise uptake at GCSE - raising our profile with students and parents by showing them how rich and diverse the arts are. I wanted to see students engaging with the arts more regularly and to help them discover culture in a way that can't be covered in the curriculum.

I was determined that Artsmark would help convince my school leaders that the arts subjects were as important as the STEM subjects.

Our big idea - following from the Development Day - was a SCA (sport and creative arts) day, developing our existing sports day to include creative arts and to involve EVERYONE, not just competitors in the athletics. Our old-style sports day would see the whole school go down to the field and watch a small percentage of the students compete. We wanted every student to finish the day feeling, instead, that they had been part of something creative.

Our most ambitious idea for the Artsmark journey, was to ask for an internal colleague to be recruited and awarded a TLR (teaching and learning responsibility) payment for one year, to provide some additional support.

We also planned to use social media channels improve the visibility and perception of Creative Arts.
Creative pARTners
The Artsmark Development Day was essential in my understanding of the what the journey would entail. I arrived wanting to gain recognition for the good work happening at my school but quickly realised that Artsmark would give us so much more - empowering me to influence my school leaders more to make Marple Hall School a more creative place.

My line manager and partner in this journey, Lyn Lawton, attended the session with me. Her knowledge of the school aims, which were at the time being rewritten, was invaluable. Together, we realised this was an opportunity to write the arts into the school ethos. Five key attributes for Marple Hall School students were being debated by the school community at about that time: Honesty, Determination, Readiness and Respect - but the fifth had not yet been decided. We pushed for Creativity but came to a compromise with 'Spark'. This is now a core value of our school and, although students are encouraged to show it right across their school career, we secure the arts in our school with its inclusion.

I was amazed and delighted that the Headteacher agreed to all our requests - especially the creation of a new TLR post. This meant we could form a triad working party to divide up the workload more manageably.
Everyone a pARTicipant
Our broad aim was to involve ALL pupils across school in authentic creative arts experiences, and we managed to achieve this. So much so that SCA day is now firmly included in our annual calendar of events.

In the end we badged SCA day as 'SPARK Day' and it was fantastic! On the day, all teachers throughout the school taught their morning lessons through creative arts: Maths did model-making; English used drama for a murder mystery; and PE created a huge piece of outdoor art using PE equipment, with many more fabulous examples of creativity from our other departments. In the afternoon we held a festival-style whole-school event on our school field. This included musical performances from the students in a music tent and all form classes preparing stalls which offered opportunities for creative involvement.

Our school now has Spark Day as an annual summer festival – something that students and staff look forward to. It takes organisation, but after the first year there is a solid plan in place. Due to every member of staff having to take part in the organisation and the marshalling of the event, every single person in the school feels like they have added to earning the it's Artsmark Award.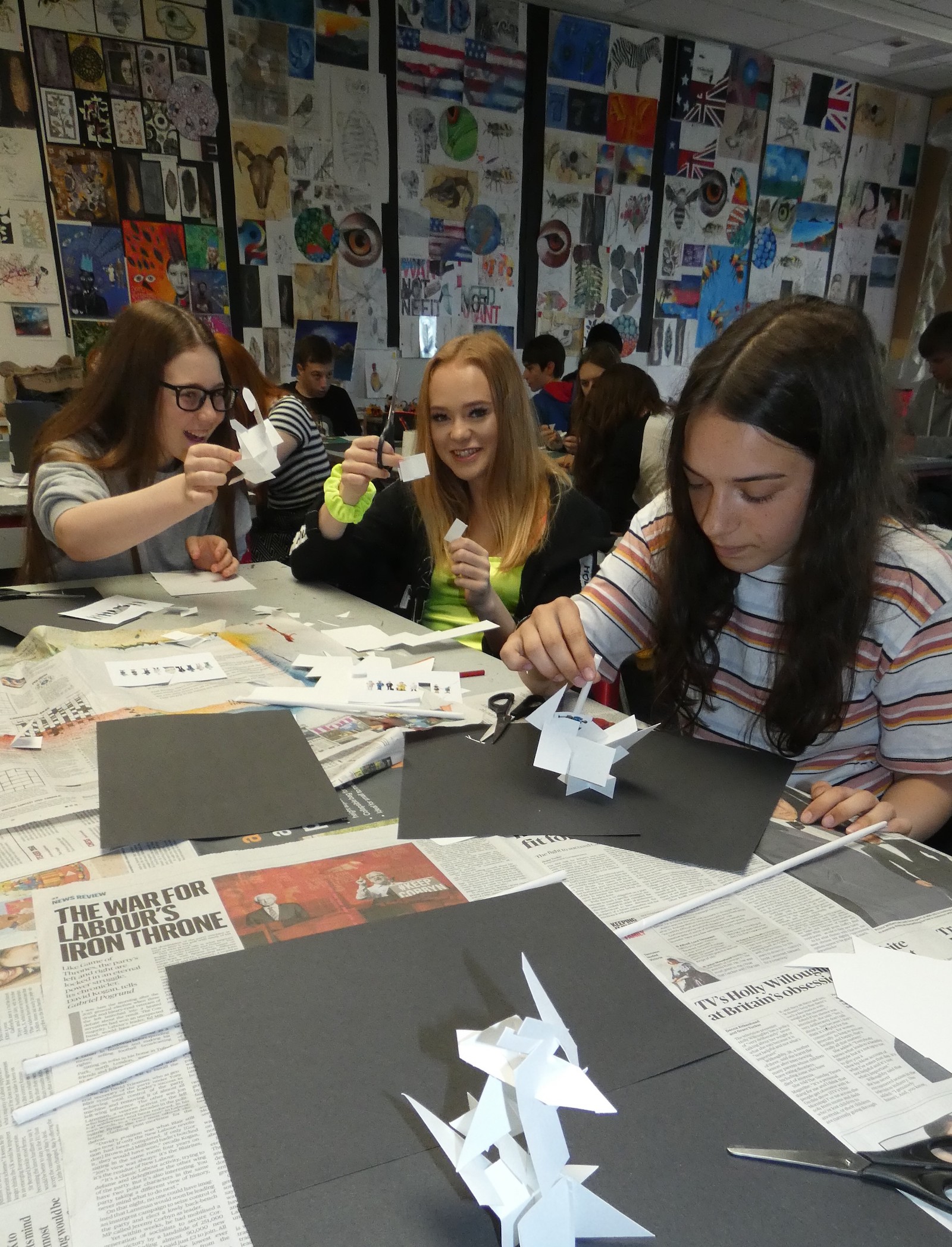 Winning heARTs and minds
From the start, we knew that rebranding Sports Day would be a challenge, so we worked with colleagues in the PE department to make sure that their events would still happen and that the festival would compliment, rather than upstage, the sports. This was a complex situation to handle and keeping them involved throughout the journey really helped this.

We had to introduce the idea to the staff during INSET and I was worried that staff would see the whole project as 'just another initiative'. So we presented ideas for form staff, and then delivered assemblies to all year groups, to pitch the idea to the students.

We were surprised that there staff responded so positively and we were able to respond to any potential problems that were brought up. One idea we had was an Olympic torch relay around the 45 forms in our school in the weeks leading up to Spark day. Art created a giant torch for us and we sent it around the school with some student photographers to capture a photo of each form with the torch.

A less successful idea was to enrich the students culturally every day in form. We added a feature called 'Get Cultured' to the daily bulletin, with a link to a piece of music, theatre or art that could be played or discussed in form time. We found that form times were too short and the pressures on form tutors were already to great, so this idea was abandoned after a full term.
Spark was just the stART...
Whilst a significant achievement in itself, Spark Day is just one of the benefits that this journey has delivered for our school and its pupils. We have so many more positive outcomes to be proud of:

- Our Gold Artsmark Award, of course! - Creating a sense of place: An art installation has been created, with local artists, for the local train station to celebrate it's centenary.
- Inspiring and celebrating diversity: Our school site looks much more colourful and inspiring. LGBT+ club graffitied our sight with tiny blocks of rainbow stripe on bricks, bars and pavement slabs. A huge banner named 'celebrating creativity' adorns the exterior of our main entrance with some of our most impressive artwork.
- Increasing engagement: Uptake of extra-curricular events is growing.
- Developing expertise: We are able to attend more arts focused CPD than before as our school has acknowledged that in house pedagogy is not enough for creative arts teachers.
- Expanding horizons: We have invited in more artists, musicians and taken out more trips in school time. We have had to be adaptable to the timetable but coinciding with timetabled lessons and being flexible has helped us.


Words for the Curious
If I was to offer some snippets of advice to schools thinking of embarking on their own Artsmark journey, they would include:
1. Find a member of the Senior Leadership team who really understands the benefits of the arts and take them along to the Development Day. My boss and I had the best planning session we have ever had at the Curious Minds Development Day, away from the pressures of day-to-day school life.

2. Create a schedule of when you hope to achieve goals by. Divide the journey up into smaller chunks. If you're planning a new event, keep a diary of what you do and when – the project might be led by someone else next time round, so make it easy for them.

3. If embarking on a whole school project, make it easy for all staff, who won't be as invested as you, with lots of examples and ideas.

4. Be brave!