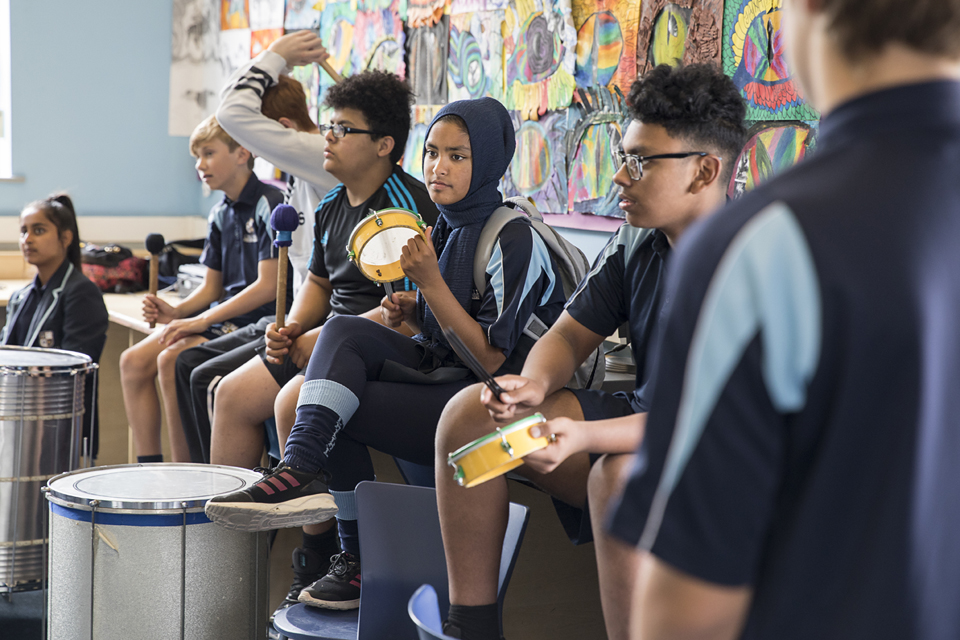 #BeeWell & Artsmark for Wellbeing Project
April 6, 2023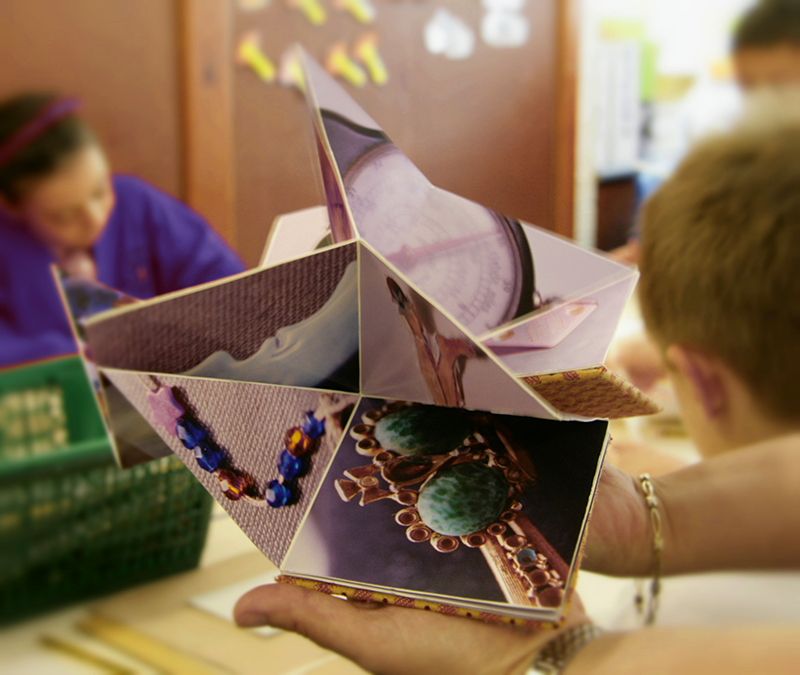 Access All Arts 2023
May 23, 2023
How Wistaston Academy's adventurous outlook has inspired a community that embraces creative opportunity

Luchelle Walsh, Art Teacher at Wistaston Academy, shares the inspiring story of her school's curiosity-driven journey with Artsmark.
Wistaston Academy is situated on the outskirts of Crewe. A primary school serving an area of social housing in the uppermost 40% for deprivation.

We embrace a high percentage of families who suffer various forms of fragmentation, abuse and safeguarding issues - as well as many families who speak English as an additional language. Whilst such challenges are by no means unique, they very much inform our ethos and how we shape our curriculum.

We know that many of our children won't have access to a variety of life-changing adventures unless we actively provide them, so we are passionately committed to doing just that.

With 20 different languages being spoken across our school, receptive and expressive English is often low. In this context, we place huge value on the richness offered by creative and cultural education. The inclusive nature of these subjects cuts across language barriers, raises self-esteem and provides invaluable experiences.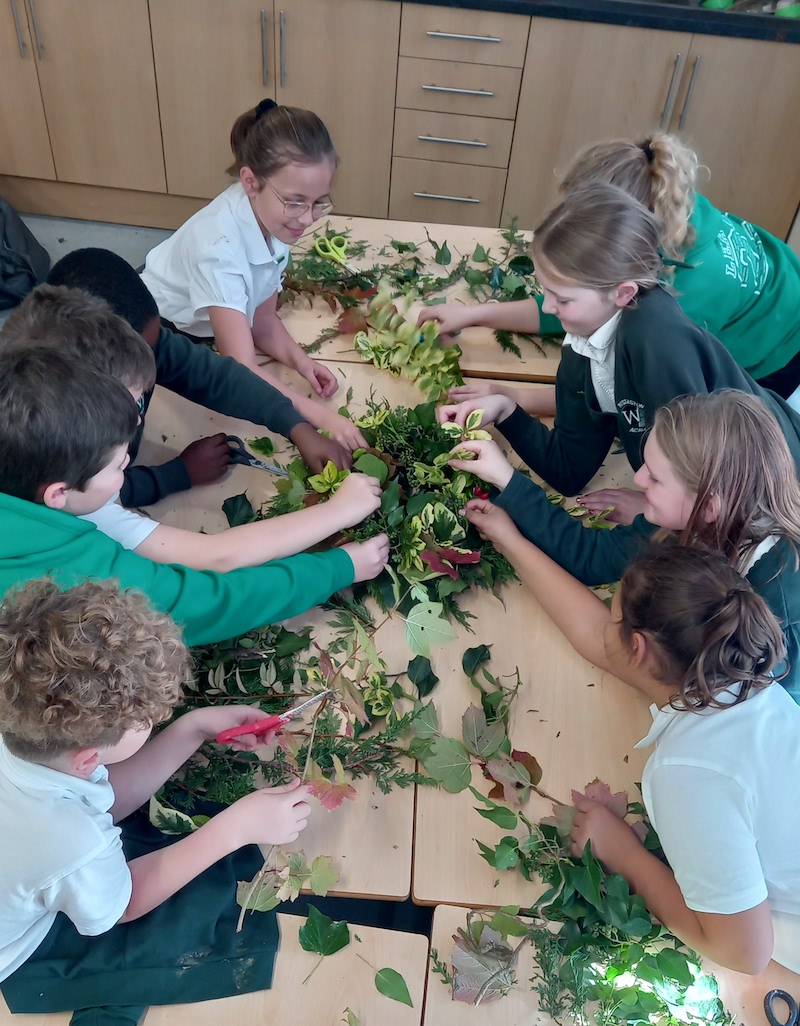 At the start of our Artsmark journey our visual arts provision was well established but we had ambition to enhance our offer across more diverse artforms, through which we could unlock yet more opportunities for creative expression.
The power of ideas
One of the key criteria for Artsmark is that pupils should be empowered to influence and shape their own arts experiences. Our children have been leading the way throughout this journey, and our outcomes have been much the better for it. It all started in an RE session with a visiting artist, singer/songwriter Chip Kendall, at which he played his new song, 'John 3:16'. Filled with enthusiasm, the children wanted to record a music video with him. The idea was developed, funding secured, and a new adventure began!

We were able to record the Chip Party video with the expert help of a professional videographer – something which the children enjoyed immensely. Whilst bringing their RE learning to life, the project also allowed them to explore different forms of creativity and introduced exciting new ideas about creative skillsets.
Our relationship with Chip also deepened and, in 2020, he agreed to become more closely linked with our school as an Arts Patron. In the unsettling periods of lockdown, he sent
inspiring messages for the children
and, once we were all together again, the children began to benefit from regular enriching sessions with him. Chip's involvement was instrumental in inspiring a love for dance and singing in our students and provided them with opportunities to stretch themselves in terms of performances.
It was at Chip's invitation that our Year 5 and 6 pupils became involved in
Festival Manchester 2022
, as part of the Soul Children Choir. Festival Manchester is an enormous event involving professional artists from all over the world playing for an audience of 65,000 people. The Soul Children's Choir, made up of 1000 young voices, performed in high riser stands by the main stage.
This was an experience that the children and their families will never forget. Engagement with this project was very high, so we took 75-seater bus filled with children and family members to the festival. The feedback we received on their experience afterwards was equally inspiring - it raised children's confidence and they felt proud of what they'd achieved; it increased enthusiasm for school attendance, aspiration and provided an emotional outlet. Our school has now formed an official 'Soul Children Crewe and Nantwich' group, with intentions to widen our offer to encompass other local primary and secondary schools.
"By opening our own school doors, we had opened new avenues into the world outside."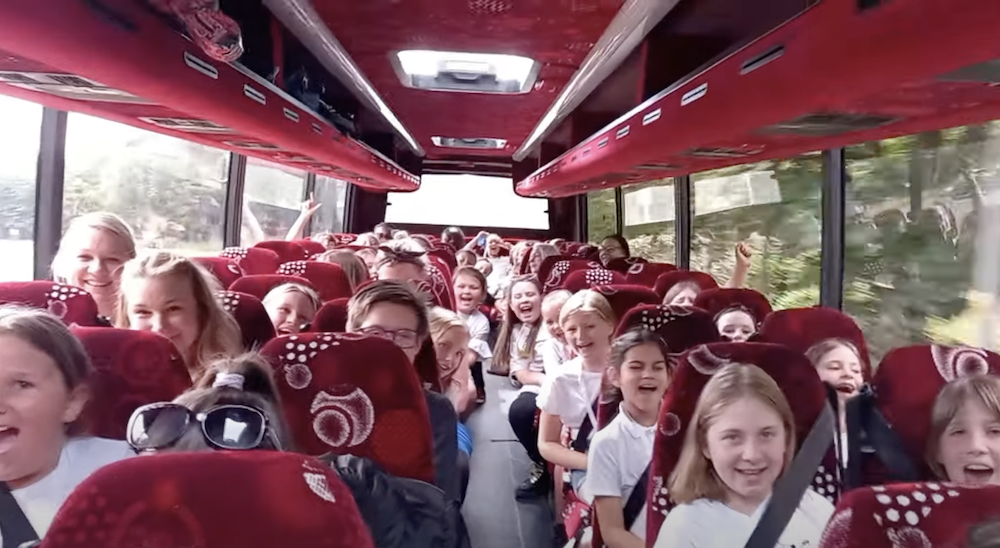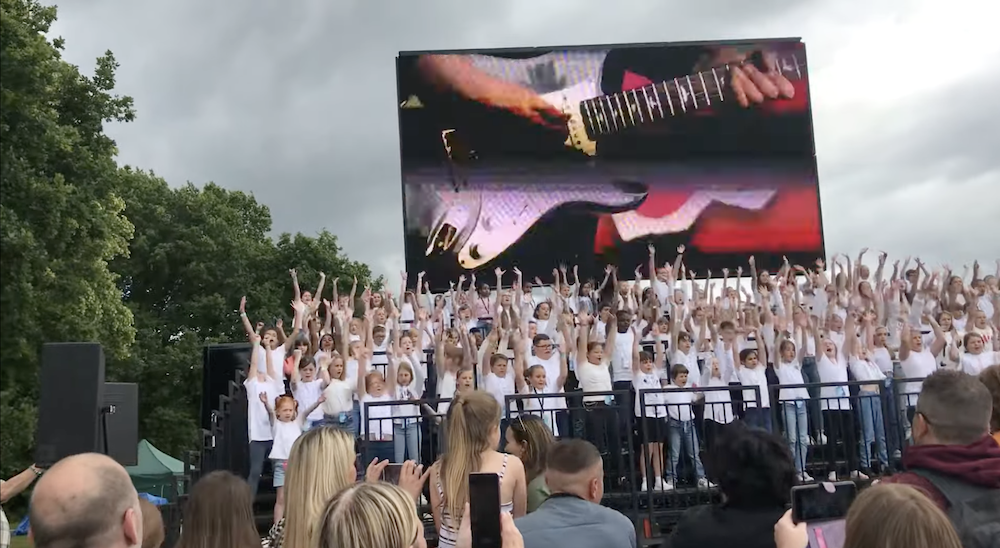 The partnership we built with Chip didn't just bring a specific artform into our school, it brought with it fresh perspectives, enthusiasm, excitement and opportunity. It was clear that, by opening our own school doors, we had similarly opened new avenues into the world outside – expanding horizons in a way we'd have struggled to do without his help.
Ever-expanding horizons
Motivated by these successes we decided that the next step on our arts adventure should be to bring in more local creative expertise. Another Soul Children UK Leader, singer Tim Uffindell, agreed to come on board as an Arts Patron. Tim now works with all year groups on a weekly basis to develop singing within our school.

We were also delighted to further diversify our partnerships (this time in visual arts and design) by welcoming Rachel Bishop, Head Designer for a local pottery company called Moorcroft, as our third Arts Patron. Rachel made a video with us in which she shares her methods, life experiences and encourages the children to pursue their dreams even when this does not seem like an easy option. The work the children produce based on her designs is regularly looked over by Rachel and she personally comments in all their sketchbooks.
Achieving and celebrating together
In November 2022,
Artsmark Celebration Week
focused on the theme of community, chiming nicely with the work we've been doing to develop local partnerships and engage our wider school community in the joys of creativity.
We loved the idea of creating our own tree sculpture (our "communi-tree") that displays artwork the children created during the week, expressing what makes our community flourish.
Children in Year 6 created the bark for the tree, while other years, including our specialist SEN Hub children, created leaves that expressed their ideas. This is still installed in our main school entrance – a clear statement to all who visit that community and creativity matter greatly to us.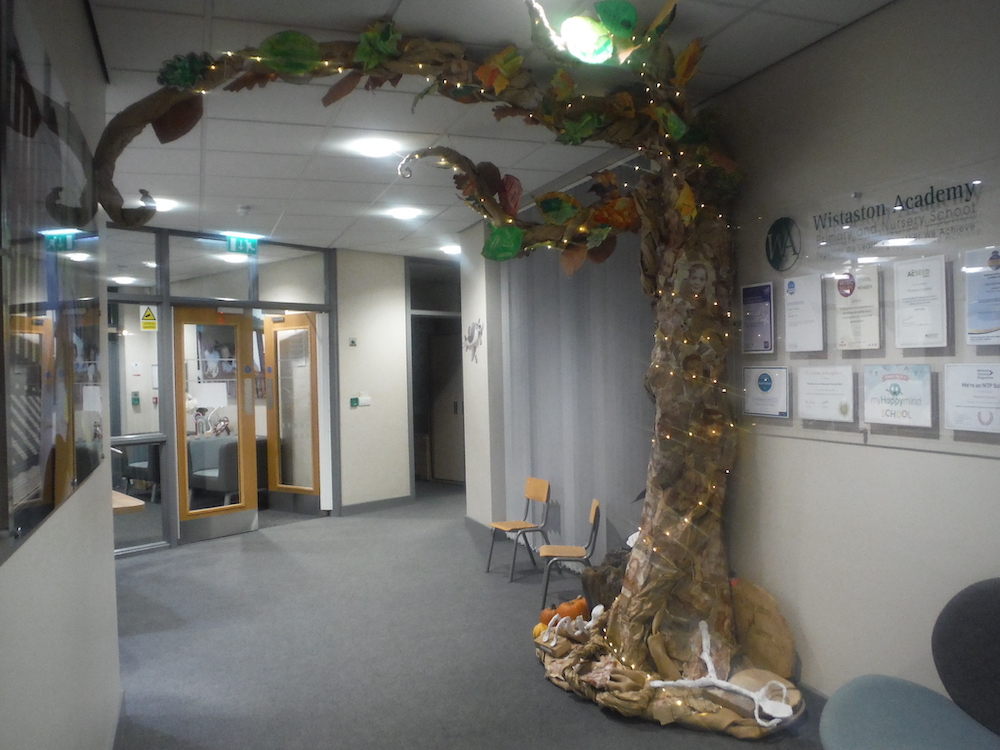 Celebration Week also coincided with parents evenings, so we curated a whole school exhibition to celebrate our arts achievements. Families were invited not just to come and view artwork, but to join in - helping us finish a collaborative angel sculpture and recording vox-pop interviews sharing their views on arts provision at Wistaston Academy. The impact of this venture was incredible! Children were filled with awe and wonder, parents were positively engaged and provided feedback about how valuable they thought art was in their children's education. Pupils reflected on their favourite artists, art mediums and the difference art made to their lives. We have decided to do this for every parents evening.
The themes of community and creativity really flowed through all we were doing in that period, with too many joyful and inspiring activities to recount individually.

Naturally, our Arts Patrons got involved. Chip Kendall led sessions with most year groups based around his song, 'Love where you live', which speaks of changing our community through love. Tim Uffindell recorded the song 'You've got a friend in me' with our Year 5 children, who wanted to reach out to a fellow pupil currently undergoing a bone-marrow transplant in hospital. And Rachel Bishop's organic, nature-based designs formed the basis of artwork that children linked with ideas about what makes our community thrive.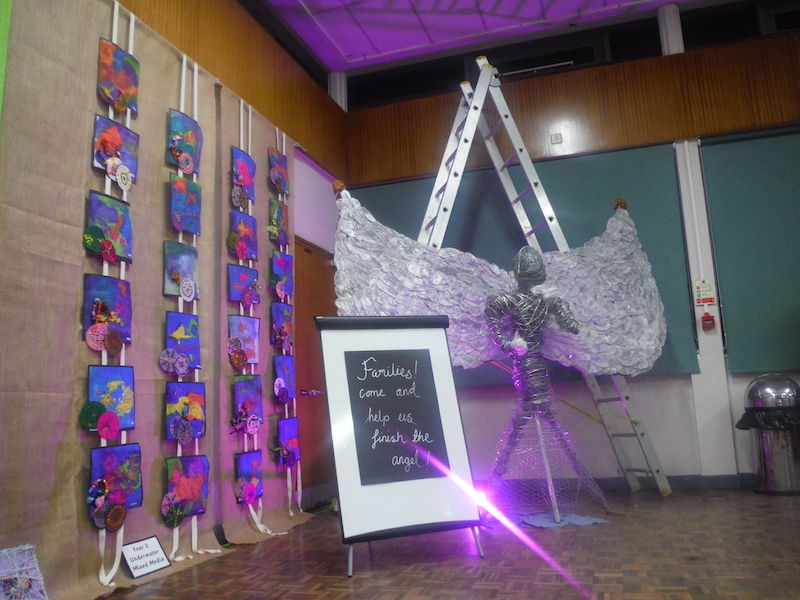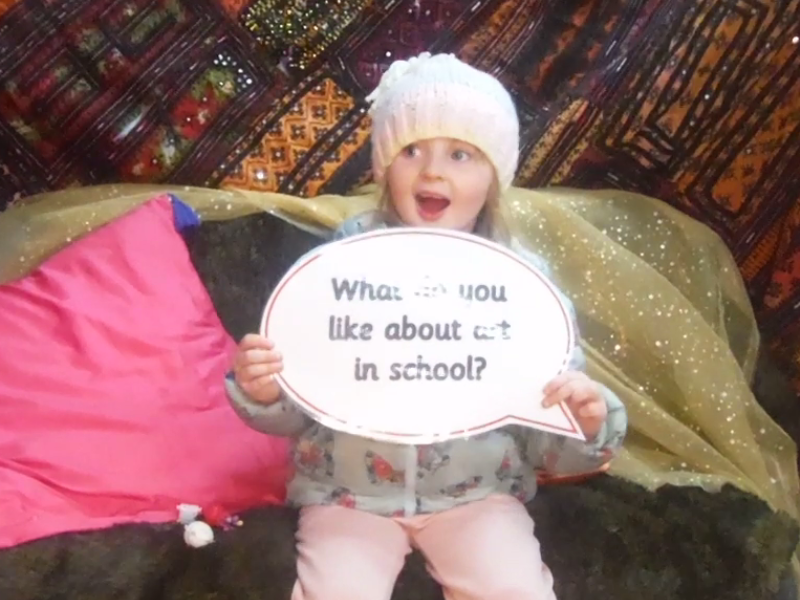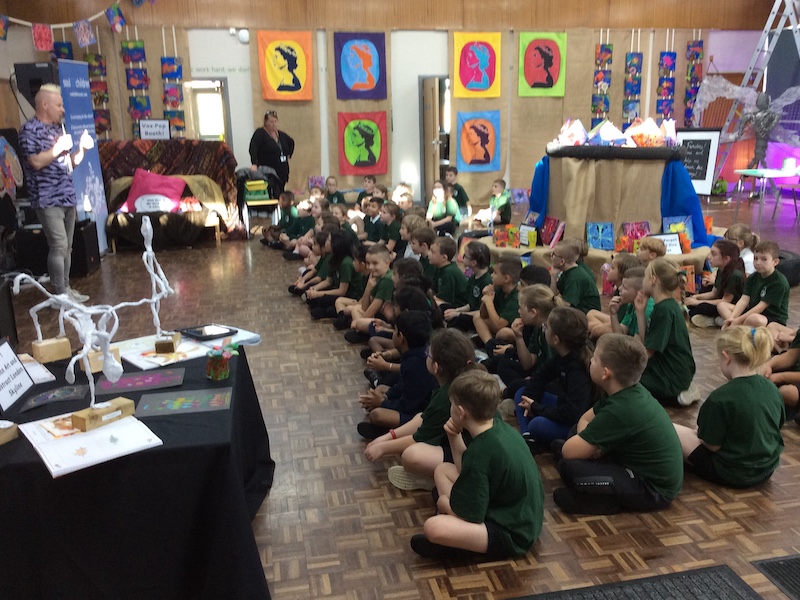 It doesn't stop here!
For our school, Artsmark is a development journey that doesn't stop when we submit our Statement of Impact or receive news of the award level we've received. The sheer exuberance with which our staff and leadership teams, governors, Arts Patrons, children and their families have embraced this adventure has been key to the success of the process and leaves a powerful, lasting impression.

I can't wait to take our next steps down this road!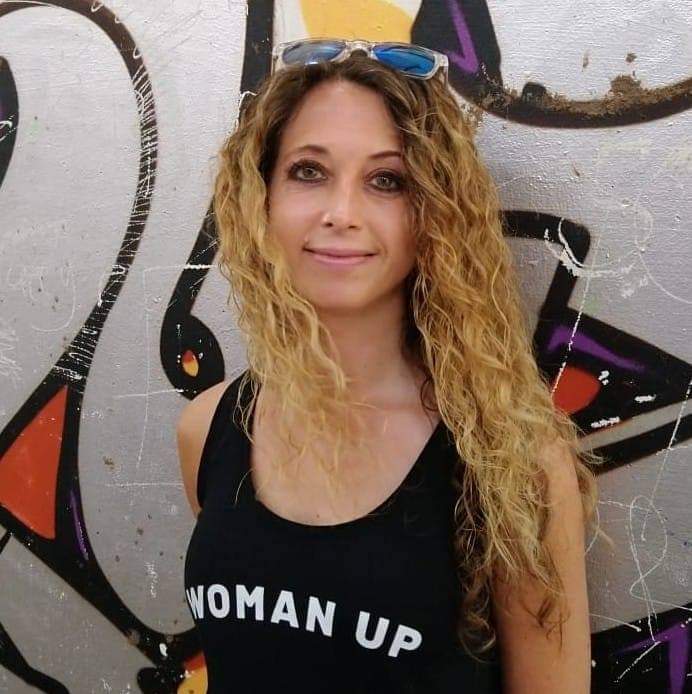 Luchelle Walsh
Wistaston Academy
---