Artsmark is the creative quality standard for schools, accredited by Arts Council England.
It provides a clear framework for teachers to plan, develop and evaluate arts, culture and creativity across the curriculum and beyond.
It has been designed by schools, for schools, to align with School Improvement Plans and support core EBACC and STEM priorities, giving the curriculum breadth and balance. As well as recognising schools that are making the arts come alive, the Artsmark award is a practical and valuable tool for enriching a school's arts provision whatever the starting point.
Artsmark has a common sense application process, which is light on paperwork and flexible to each school. The cost is £500 (£250 for schools with less than 100 pupils), which is paid after
registration
and lasts until you re-register or your award expires. Find out more about the process, timeline for completing the award with our short video animation or by visiting
artsmark.org.uk
.
Artsmark registrered schools in the North West of England receive support from Curious Minds throughout their Artsmark Journey, as well as being able to access an enviable networks of leading cultural organisations (see Artsmark Partnership Programme below), that will enable them to use the arts to engage and develop happy, self-expressed and confident young people and inspire teachers.
---
---
Covid-19 and Artsmark
Arts and creativity have been a lifeline in lockdown. Artsmark can support you to maintain and build your school's commitment to creativity, which is needed now more than ever.

We've seen how you've used arts and creativity to support your pupils' wellbeing during the coronavirus pandemic, which is why, as you begin to navigate returning to school, Arts Council England is re-opening registrations. We hope that all settings can use Artsmark's flexible framework to embed arts and creativity across the curriculum, allowing you to continue to put children and young people's wellbeing at the heart of your school.

The updated FAQs below give more detail about re-opening of registrations. Please read these and get in touch if your query isn't answered or you need further support.

As settings look to welcome pupils back, we'd like to reiterate our support for schools. We know this will be another challenge, and will do all we can to make sure Artsmark supports you in this journey and helps you keep pupils' wellbeing central as we navigate this next step.

For those not back in school yet, there are several fantastic free, online resources for teachers, parents and carers to stay creative at home. For more ideas be sure to follow @Artsmark on Twitter and Facebook.

---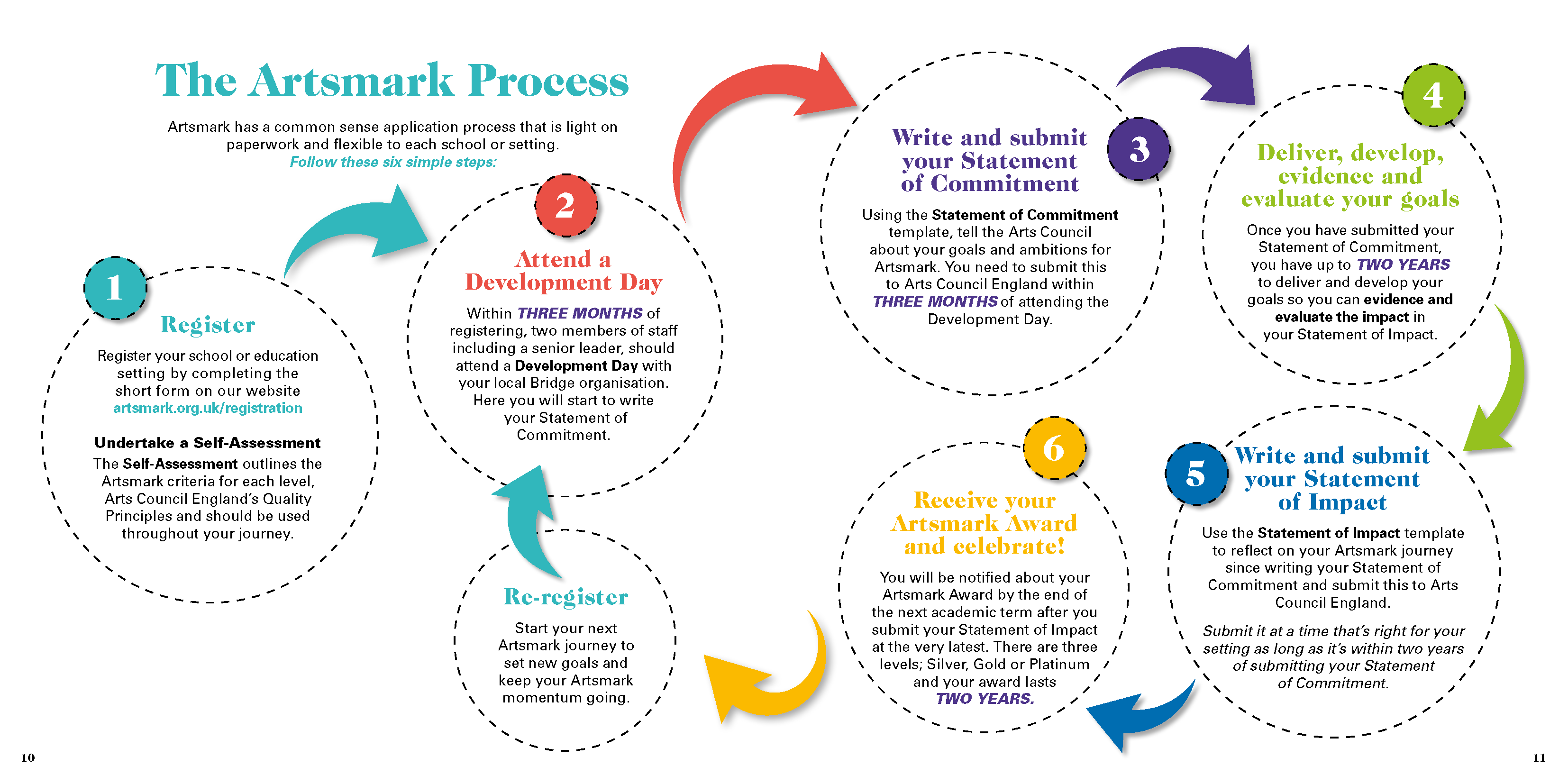 ---
---
As the Arts Council England Bridge Organisation for the North West, Curious Minds is proud to support Artsmark schools across the region. We offer a wide package of support, including:
This is the 1st item
This is the 2nd item
Delivering Artsmark Development Days
Running Artsmark support sessions
Giving you support by phone, email or in person
Sharing practical resources
Introducing you to cultural organisations in your area, including those accredited by Arts Council England through the Artsmark Partnership Programme (see link box >)
Supporting you celebrate your achievements
---
---
---