The region's cultural education stars were honoured at the second
North West Cultural Education Awards



This high profile and prestigious celebration took place on 27th June 2018 and brought together teachers, cultural organisations, artists and influencers from across the North West, to celebrate their involvement in the Cultural Educational Challenge.

It shone a light on best practice and those who have gone above and beyond in their work to bring the benefits of great arts and culture to the region's children and young people.

The afternoon event featured an Awards Ceremony, as well as a creative space – 'Wonderland' – which showcased some of the region's rich and diverse cultural offer for schools.

Awards were presented across 15 separate categories, from which winners had been selected by an independent panel of judges.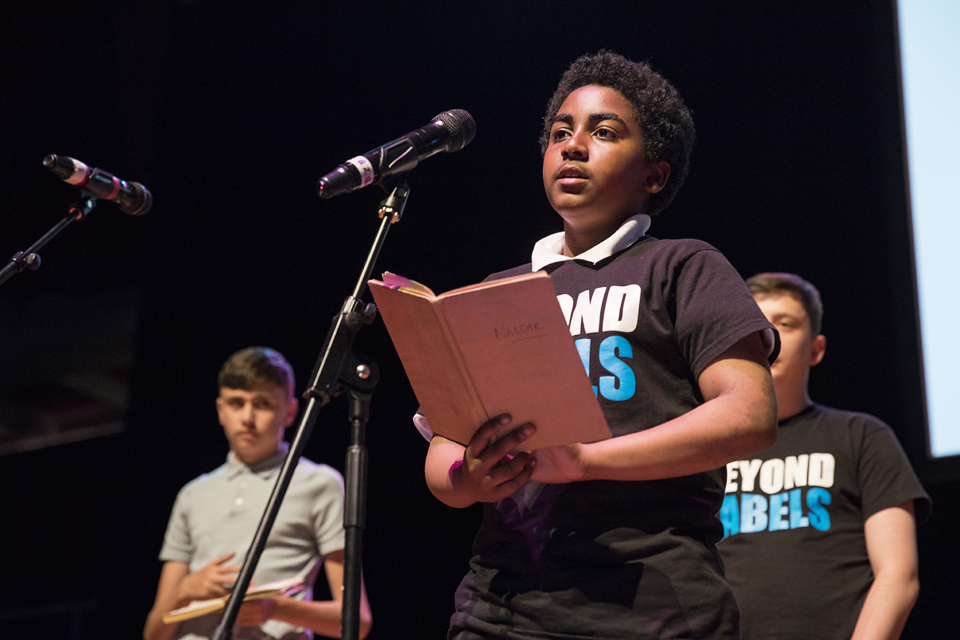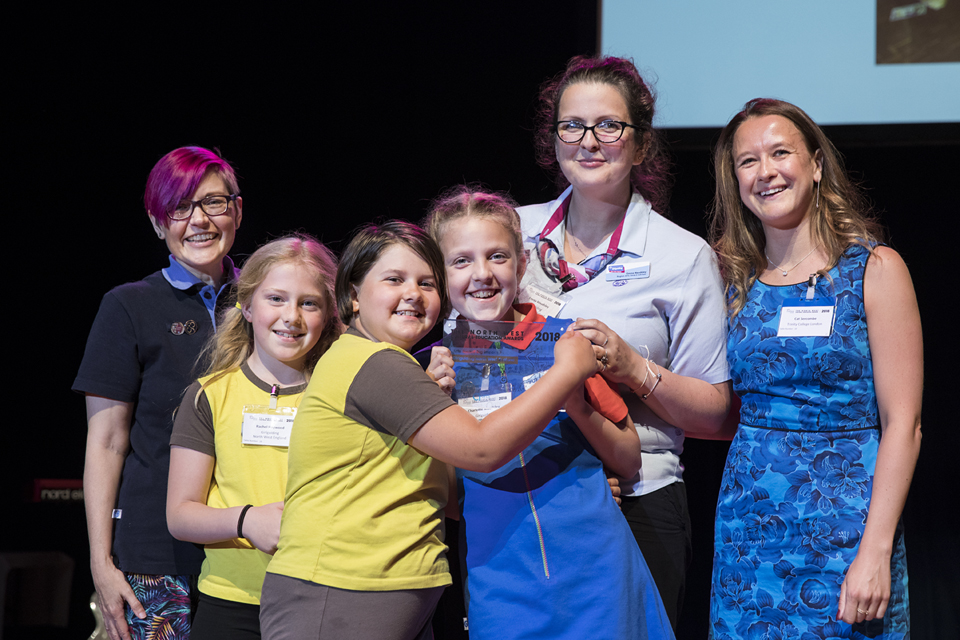 The Award Categories, Finalists and Winners
Leadership Categories:
The Arts Council England Award for Innovation and Leadership in Education
Shortlist:
John Pout, Rainhill Multi Academy Trust
Karen Fay, Fallibroome Academy
Stuart Johnson, Park Community Academy
Laura Witham, Pikes Lane Primary School
Naomi Lord, Bolton School Boys' Division
Mark Featherstone-Witty, The LIPA Learning Group
Cultural Education Activist Award
Shortlist:
Celine Wyatt, Grand Theatre, Blackpool
Angelica Vanasse, National Museums Liverpool
Rhiannon Griffiths, Comics Youth
Simon Poole, Storyhouse
Jeremy Sleith, St Helens Council Music Service
Keisha Thompson, Contact
Polly Brannon, Liverpool Biennial of Contemporary Art Ltd
Partnership Categories:
Arts and Education Partnership Award
Shortlist:
Webster Primary School & Manchester Camerata
Merseyside Youth Association (in partnership with multiple arts organisations and schools across Merseyside)
The Hollins & SuperSlowWay
The Lowry & Aldridge Education
AmaSing (in partnership with Chester University and multiple schools across Chester and Ellesmere Port
The Dukes Theatre (in partnership with Lancaster University and multiple schools across Lancaster)
Heritage, Museum, Library and Education Partnership Award
Shortlist:
Ladybridge Primary School (in partnership with Bolton School Library Service)
Oldham Libraries (in partnership with Oldham Local Studies and Archives, Oldham Coliseum Theatre, Leeds University and Holy Cross Primary School)
Heritage Learning Lancashire (in partnership with St James' Church of England Primary School, Central Lancaster High School, Worsthorne Primary School, Shakespeare Primary School, Leyland Methodist Junior School, Alder Grange Community and Technology School)
Queen Elizabeth School (in partnership with LICAF)
Action Factory/Blackburn Museum & Art Gallery/Blackburn Children's University
Project. INC
People's History Museum (in partnership with Manchester Secondary Pupil Referral Unit)
Inspirational Local Cultural Education Partnership Award
Shortlist:
Cheshire West and Chester Local Cultural Education Partnership
Bolton Library and Museum Services
Cultured - St Helens Local Cultural Education Partnership
Artsmark Categories:
Artsmark Best Practice Award
St Peter's CE Primary School (Farnworth)
Artsmark Team Award
St Mary's RC Primary School (Swinton)
Arts Award Categories:
Personal Achievement Award (Ages 5-11)
Connor Gamble, People's History Museum
Personal Achievement Award (Ages 12-25)
Shortlist:
Thomas Shepley, PANDA - Performing Arts Network & Development Agency
Charleigh Jones, Thomas Ashton School
Nina Young, Stockport School
Kirsty Prescott, Storyhouse
Aymen Hashmi, Action Factory/Blackburn Museum & Art Gallery
Chloe Limbert, Girlguiding NW England
Inspirational Arts Award Adviser
Shortlist:
Laura Veevers, Michelle Darwin, Jessica Milne, Burnley Youth Theatre
Phill Fairhurst, Grand Theatre, Blackpool
Emma Regan, Girlguiding NW England
Sharon Palfreyman, Corrie Primary School, Denton
Big Impact Award
Shortlist:
Resonate, Liverpool's Music Education Hub
Bolton Music Service
Grand Theatre, Blackpool
Girlguiding North West England
Bolton Library and Museum Services
Gold & Beyond Award
Corey Hewitt - Odd Arts
Creative Careers Categories:
Most Inspiring Creative Apprentice or Intern
James Parrott - Rentalcars.com
Creative Career Champions
Shortlist:
Burnley Youth Theatre
Storyhouse
The Dukes Theatre
Clapperboard UK Ltd
Pendleton Sixth Form College
Skool of Street
Get It Loud In Libraries Academy
Special Category:
The Curious Minds Cultural Education Challenge Award
Shortlist:
Love Music Trust
Clonter Opera Theatre
Stockport School
Fred Longworth High School
Introducing our Event Sponsors!
About our Sponsors
The Co-op Academies Trust works with primary and secondary academies to change the lives of young people across the north of England through co-operative learning and ethical values.
Creative & Cultural Skills is an independent charity and licensed Sector Skills Council that believes true economic growth in our sector can only really happen with access to the right talent and skills, regardless of background or previous educational achievement. We champion non-traditional progression routes into and through our workforce, including apprenticeships. We campaign for fair access and pay, working to eradicate the sector's elitist recruitment practices.
Built on a passion for learning with creativity at the heart of everything we do, Dimensions Curriculum resources save teachers' time designing outstanding lessons that develop the whole child. Our Primary Curriculum and 3D PSHE Programme are used in over twenty countries, raising standards right across the curriculum! Find out more at www.dimensionscurriculum.co.uk @DimensionsCC
Since 2015 Happy Creative has been delivering happiness to businesses with their creative, marketing and digital expertise. Through their marketing strategy, branding, design, website design & build, PR & content and market research, Happy helps customers build their brands, raise their profile, generate leads and stand out with powerful designs.
Working across the education, health, public services and corporate sectors, we help our clients manage their IT Waste Electrical and Electronic Equipment (WEEE) and Data Protection obligations by providing safe and secure disposal of redundant IT equipment. Wherever possible, we also help to provide an income stream by delivering value in recycling IT equipment.
RJFacilities' aim is to have a long term mutually beneficial business relationships based upon openness, honesty and integrity with the customer at the centre. We will design a complete service which meets your needs, benchmark standards, achieve efficiencies and improve your working environment.
Rugby League Cares is a charity that touches upon the lives of people involved at every level of our great sport. Our mission is to enhance and enrich people's lives through the power and positive influence of Rugby League. We are proud of our Cultural programme which in particular engages women, girls and other under-represented groups to the sport and its associated events by supporting dance programmes in both school and community settings.
Preston Guild Hall is a premier entertainment venue with a wide range of shows from comedy to classics. The Guild Hall works with the local community such as schools and colleges as well as national touring artists/groups. Preston Guild hall is a multi-attraction venue also home to a bowling alley and eateries.
The University of Central Lancashire (UCLan) has a broad employment-focused course portfolio, containing a wide range of undergraduate, postgraduate and degree apprenticeship programmes. Our ethos as a University is to encourage and motivate individuals to achieve their full potential and to nurture talent from all cultures and backgrounds. Through our award-winning social engagement initiatives, we work with our local communities to ensure the University is a civic anchor within the region.
"Providing quality services that make a real difference to people's lives"
Innovative charities and businesses working together to make social profit, rather than financial profit, the driving force behind our wide range of high quality services. We define "social profit" as the positive difference we make to people's lives, across all the communities in which we work. We create social profit by developing innovative services, and harnessing the opportunities of our unique group structure.
As the largest further education college in the UK, we're shaping an amazing future for our students. With our focus on careers and a work-ready Greater Manchester, we're creating greater opportunities in the heart of our city and leading the way in education.