Reflections on the Young Associates Experience
As the Cohort 2 of the Young Associates near the end of their time with Curious Minds, Lois and Amber sat down with Holly Ball, our Head of Careers and Employability, to reflect on their experience; what they had learnt over the last two years, which parts they enjoyed the most and what advice they would give to others looking to work with young people like them.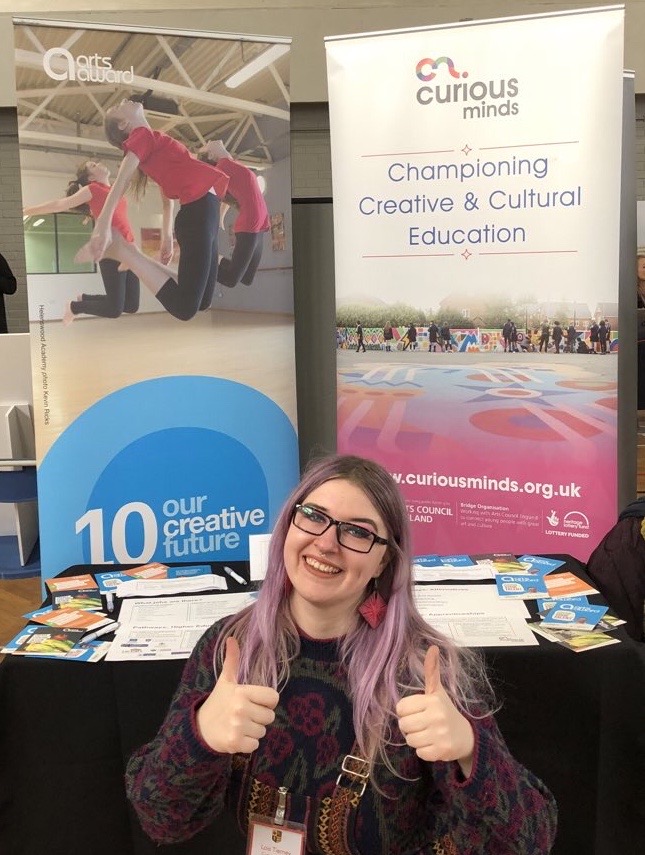 Holly: You've both done so much in the last two years with Curious Minds. Please can you share a couple of things each that have stood out for you and why

Amber: I have been to Liverpool to talk to people about my silver Arts Award. I also did a podcast recording with other Young Associates about what it was like to be a young person in Britain these days. I enjoyed doing the podcast as I got to meet new people and I like voicing my opinion and getting the message to people, about people with disabilities having a job.

Lois: For me, my favourite session was the presentation skills one with Scottish Rick, all I remember is 'you've got to learn about the power of 3' (delivered in her best Scottish accent). My highlight was working with Louise to mentor Liverpool LCEP's Young Leaders; it felt like it was work experience. Young Associates felt like I was at school, in a good way, because I'm learning new stuff, but then doing the mentoring was the next level up and here's my chance to put them new skills to good use.
Holly: We've started to talk about this a bit already, so can you say a bit more about what you have learnt from being a Young Associate?

Amber: Being a Programme Assistant for Cohort 3 made me more confident in helping other people. An important part of Young Associates is how to work with other people and communication, which is important when working with other people. I now have good communication skills like speaking clearly and good eye contact.

Lois: Something that I didn't really expect to happen but I'm really happy it did anyway, which is I've learnt acceptance within myself as a disabled person. I think what's really helped is me and Amber have really bonded because we are both disabled and we've both got autism; having someone else on the course who's got the same disability as me was really validating. Amber has inspired me a ton with how she really accepts her autism and it doesn't stop her doing anything; and I thought 'I need to apply that to my life' and don't let my disability stop me from doing what I want.
Holly: That's amazing to hear the development, not just of professional skills, but also that personal development as well. What skills will you remember most from being a Young Associate and use in another job?

Amber: A skill I'll remember is confidence, as my confidence has boosted since being a Young Associate. I thought I'd struggle doing the silver Arts Award on my own but I've been able to get through it on my own, which has given me a lot of confidence that I can achieve things independently when I put in the work, and do my best at the tasks I need to do.

Lois: To be honest I think my experience is very similar to Amber's. I gained a lot of confidence in myself and I've noticed I've become a lot more assertive as well. I've actually got the ability and confidence to say 'that's not OK' if I see something that's not right and to stand up for what I believe in. And having that confidence that I can do anything really.
Holly: What advice would you give to someone wanting to employ a young person? What does the employer need to think about when recruiting?

Amber: Make sure you give people a fair chance, because they can do things and they have really good skills that they can offer to a job. Create opportunities where you can, because it's something really special and really means a lot to young people.

Lois: I would just tell the employer to be mindful of accessibility requirements. If you're hiring someone with a disability, then just ask them what do they need in place so they can succeed as much as anyone that doesn't have a disability. It's good to see in the interview because it shows that they care, so it needs to be from the very start and show that they really mean it.
Holly: Is there anything else you to say about Young Associates before we finish our chat?

Amber: I have really enjoyed Young Associates and will really miss; it has given me a lot of confidence as I've developed lots of skills I can use in my job. I really have enjoyed getting to know people and making new friends. I felt welcomed by the staff team, I felt really welcome and understood. The training sessions were inclusive and they supported me with my autism.

Lois: That pretty much echoes how I feel myself really. I feel accepted and Curious Minds has seen skills that I couldn't see in myself, and that's really helped me out and given me loads of confidence and be more assertive. I'm glad I've been able to make friends out of Young Associates as well.
Speaking to Amber and Lois about their experiences, it's clear that the Young Associates programme not only supports young people to develop new knowledge and skills for the work-place, but increases their confidence and develops personal growth - enhancing their employability and their own awareness of the experience they can bring to a role.
Curious to know more about the Curious Minds Young Associates programme? Contact our Head of Careers and Employability, Holly Ball.