The Arts Council funds a network of 10 Bridge organisations to connect the cultural sector and the education sector so that children & young people can have access to great arts and cultural opportunities.

Curious Minds is delighted to serve as Bridge organisation for the North West, covering Cumbria, Lancashire, Greater Manchester, Merseyside and Cheshire.
Through this work we engage with local schools, art organisations, museums, libraries, music education hubs, local authorities, Further Education and Higher Education Institutions and many other partners to develop a network of cultural provision, catalyse and coordinate the activity to meet the Cultural Education Challenge.We do this through working to form Local Cultural Education Partnerships and through programmes like Arts Award and Artsmark.
A Curious Approach to Bridge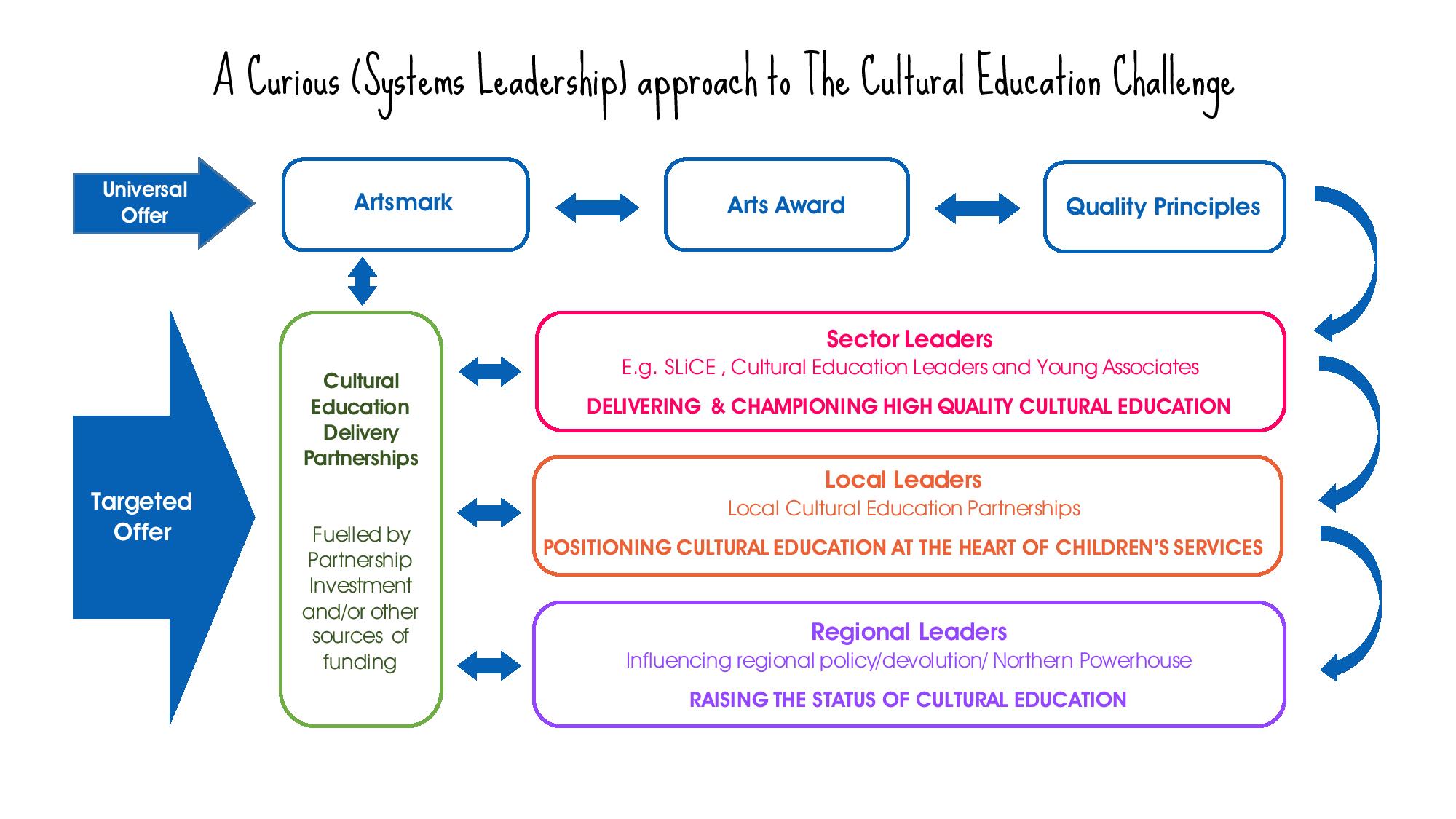 STRAND 1:
 will deliver a 
UNIVERSAL OFFER
 targeting all schools, colleges, youth agencies, music education hubs, arts and cultural organisations, Local Cultural Education Partnerships and Cultural Education Delivery Partnerships with essential information, advocacy and opportunities to engage with
Artsmark
,
Arts Award
and the Quality Principles. We will deliver an annual programme of newsletters, events and advocacy, including Artsmark Development Days and Arts Award Advisor Training.  We will continue to promote and develop use of the Culture Hubs online information portal as a conduit between schools, youth services and the cultural sector.
STRAND 2:
  will deliver a 
TARGETED OFFER
 supporting educational and cultural leaders at all levels to work beyond organisational and sectoral boundaries, and involve children and young people in the design of the cultural education offer.  This strand will be delivered across three 'systems leadership levels':
Sector Leaders– supporting leading teachers and creative practitioners to champion and deliver high quality cultural education; e.g. SLiCE (Specialist Leaders in Cultural Education), Cultural Education Leaders (emerging art form leaders), Young Associates and Young Producers.
Local Leaders– mobilizing, galvanizing and supporting Local Cultural Education Partnerships to position cultural education at the heart of local plans for education and children's services.
Regional Leaders– supporting strategic leaders from within the educational, cultural and public sectors to raising the status of cultural education; e.g. cross-sector strategic alliances influencing plans for devolution and regeneration (including The Northern Powerhouse).
STRAND 3 – Cultural Education [delivery] Partnerships 
– cross-sector and cross-artform delivery focused partnerships fuelled by Partnership Investment and other sources of levered external and philanthropic funding.  The partnerships will model high quality activity that directly responds to the needs and priorities identified by Local Cultural Education partnerships and Regional Leaders.  Activity could be focused in a single geographical area or work across LCEPs or the entire region. Opportunities to collaborate with other Bridges will facilitate pan-regional and national Cultural Education Deliver Partnerships. All PI funded activity will be delivered against a theory of change model and be allocated an external evaluation partner (e.g. a local HEI).  Learning and evidence of impact will be shared widely across cultural and children's services.